Master's studies for a safer future
Five reasons to study a master degree at the Swedish Defence University
Defence, crisis management and security is our specialisation
Regardless of their background and previous studies, all our students share a common interest in defence, crisis management and security. We are one of few universities globally where civilian and military students meet, and where our lecturers have experience and knowledge from both the military and academic worlds.
Career preparation

Our programmes prepare you for your future career. Studies comprise a combination of theory and practice, for example scenario-based role-plays, exercises and internships at government agencies, private companies or Non Governmental Organisations, (NGOs).
Design your own studies

Our programmes provide opportunities for elective courses where you can deepen your insights into areas of particular interest. Perhaps hybrid warfare, intelligence analyses or cyber threats?
Broaden your horizon through our Exchange Programme
In our two-year programme, you have the option of studying one term at another university somewhere in the world through our Erasmus Exchange. We have exchange agreements with, for example, Sciences Po Paris, the University of Bologna and the University of St Andrews.
Multiple career opportunities
Advisor, analyst, expert, researcher. There is a range of professional titles and a wide labour market waiting for you when you graduate. Regardless of which programme you choose, you will have acquired expert knowledge in your field of studies. You may want to put it to use in the political and diplomatic field, in crisis preparedness and security or in the defence sector.
Master's studies in Sweden
To study in Sweden is to take part of the Swedish way of doing things. Its a lot about democrazy and consensus in the process of taking decisions, and about creating a better world together.
Here we guide you through the application process, explain the entry requirements, admissions and other important things that you need to know when applying to our programmes and courses.
If you have applied for a course at the Swedish Defence University, which requires the payment of fees, there are several scholarships which you can apply for.
Discover the Swedish Defence University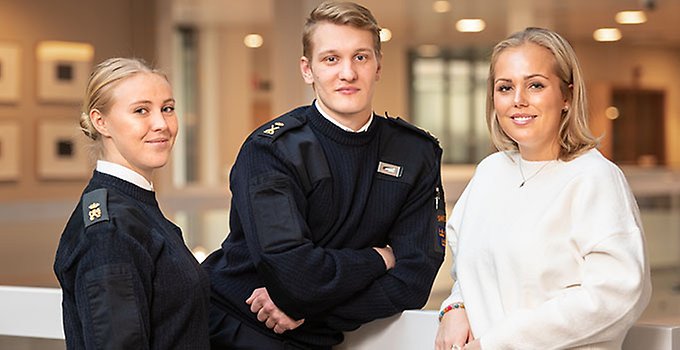 Studies at Swedish Defence University - a both civil and military university - offers a unique and completely different experience compared to most other universities.
To study at the Swedish Defence University is an excellent way of reaching your dream job in the security, defence and crisis management fields.